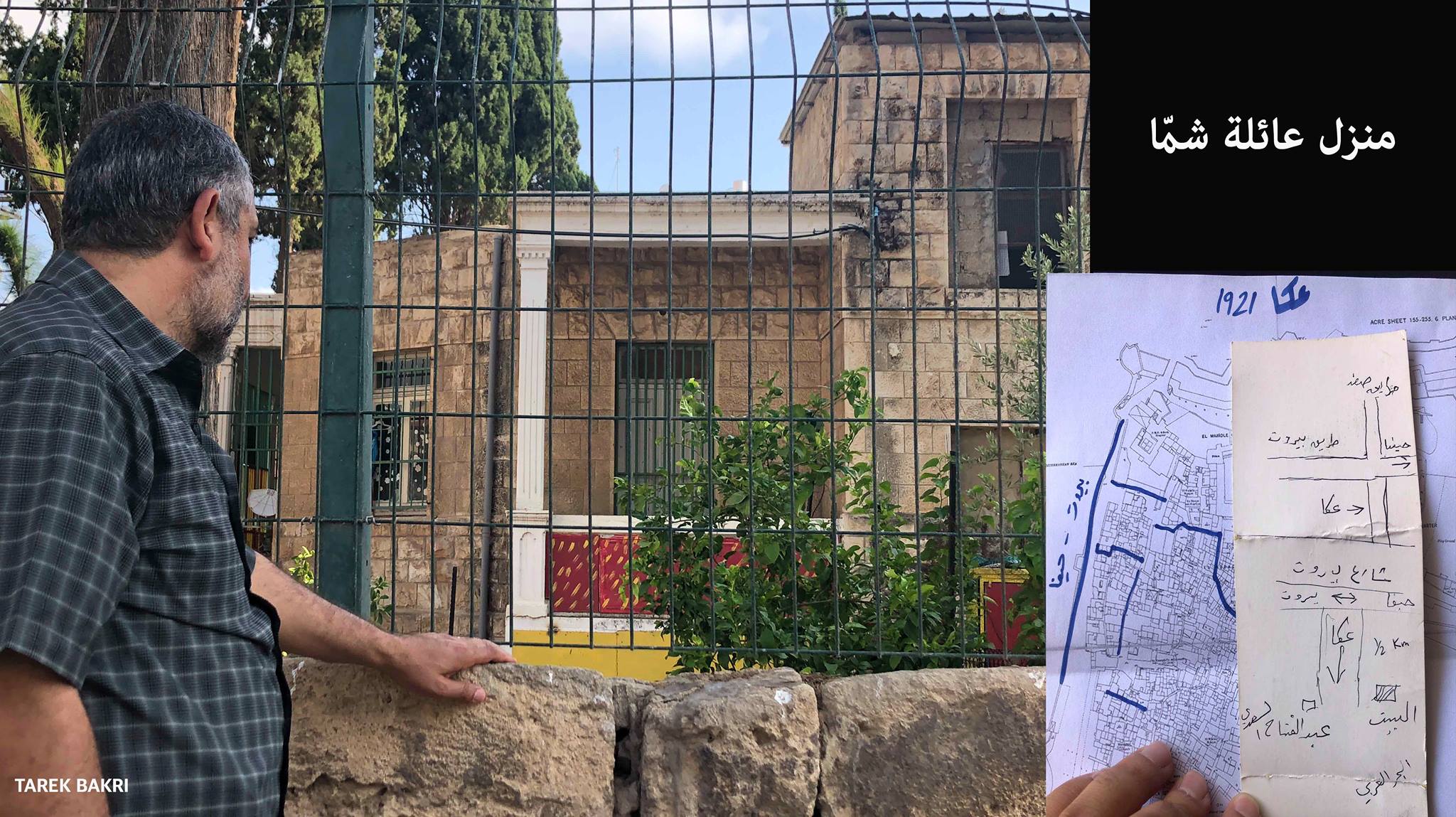 Holding a map drawn by his uncle, aged 96, Maher Shamma, born in Al-Yarmouk Refugee Camp in Syria, arrived to Palestine as a U.S citizen this time in look for the family house in Acre. 
The story started months ago when Maher told me that he intended to come to Palestine for the first time in his life looking for his family house in Acre. We had nothing to guide us except for some old pictures and words of mouth describing the house. The most important of which was a simple map drawn by Maher's uncle, now in his nineties and a refugee in Jordan, four days before his arrival to the Occupied Territories. "You enter from Beirut-Haifa Street, half a kilometer from the West Sea. On the opposite side is the house of Abdul Fattah Al-Saadi. Our house is surrounded by tens of cypress trees. 
It was almost impossible to rely on this map only. I used a British mandate map of Acre in an attempt to locate the house. We arrived to Acre and started our search in the so-called New Acre nowadays. Maps, photos and mixed feelings imposed by the city. I was struck by the strong intuition of Maher after a bit of loss; That Palestinian Syrian, born in the refugee camp, and who has never seen Palestine before: "Tarek, go left and then take the first right." And I did. 
There stood the house. We were then standing in front of the house of the deceased Moustafa Shamma. The 25 cypress tress surrounded the house from 3 sides. The entrance, the windows and the garden just as described by his uncle the refugee in Jordan. There stood Maher, amazed and in tears, sad and glad at the same time looking at his house in contemplation. The house has turned into a nursery under the Ministry of Education after being inhabited by an Israeli family right after Nakba. What left Maher feeling a bit at ease is that the nursery, called "גן ברושים" meaning Cypress Nursery is open to the Arab kids of Acre. 
In a complete coincidence, an elderly woman named Um Ihab Al-Shawish stopped us while we stood next to the house. She was a conscious child at the time of Nakba and remembers what happened well. She was able to figure out we were not from Acre from our dialect. Just like any other "Akkawi", she insisted on having us over at her house overlooking the sea to "offer us a cold or hot drink in addition to lunch before even asking about our names". As we were a bit tight on time, I told her that Maher was born in Al-Yarmouk Refugee Camp and was visiting his hometown for the first time… "love, Acre is honored to receive you. You are our people. What happened to us in 48 didn't happen to anyone. They took everything from us. My relatives and uncles were displaced and are now in Lebanon. Uncle Munir is now in Sidon and we are still staying steadfast in Acre. Um Ihab didn't stop to talk for ten consecutive minutes. I did not interrupt her as she was very enthusiastic and her memory was extremely sharp and active. 
I asked her about Shamma family. She replied: "there is their house; an Israeli family lived in it before it turned into a nursery. Right opposite to it is the house of Abdul Fattah Al-Saadi, it got demolished by the Jews". 
Um Ihab told us that she knew a woman from the Shamma family and together we went to see her to find out she was one of Maher's relatives. She said her father stayed in Acre on behalf of the family to look after its properties until things get back to being calm. "We thought things would take a week only and then we would return to our homes. My father hardly stayed to take care of the houses and at the end everything was gone." 
Maher is one of million Palestinian refugees around the world. His house in Acre that fell on the 17th of May 1948 is one of 1125 houses that were taken over by Israel Land Authority in Acre and are now run by two state-owned housing companies; Amidar and Acre Development Company. 
A right is never lost as long as someone is striving to claim it, even after 70 years, 39 days and 8 hours!